Advantages of Wearing Breathable Mesh Shoes
When it comes to your choice of footwear, comfort and practicality take the lead. Breathable mesh shoes have taken the shoe scene by storm, and it's no wonder why. These shoes are all about caterin...
Split Leather: Types, Applications, and More
Leather, celebrated for its timeless elegance and adaptability, has been a favored material across a spectrum of goods, spanning from attire to furnishings. Amid the diverse array of leather varian...
Best Ways To Clean Tennis Shoes
For tennis enthusiasts, maintaining clean tennis shoes is not only a matter of appearance but also a strategy to extend their lifespan. Whether you've just concluded an intense match or taken a lei...
Master the Art of Washing Bucket Hats Like a Pro
Bucket hats have become a trendy accessory loved by both men and women. They're available in various fabrics, designs, and colors, catering to all styles. But maintaining their stylishness requires...
Unveiling the Pros and Cons of Drawstring Bags
Within the ever-shifting landscape of fashion, drawstring bags have emerged as a versatile and iconic accessory, catering to both style and functionality. These bags have rapidly ascended to the st...
Deciphering Between Flip-Flops and Sandals
In the world of summer footwear, the choice between flip-flops and sandals can be both intriguing and essential. As temperatures rise and the sun bathes us in its warm glow, the decision of which o...
Exploring Varied Types of Bags for Men
From functional necessities to stylish essentials, bags for men have undergone a remarkable transformation. They have become a vital statement of fashion for the modern man, serving a dual purpose ...
How to Properly Wash Your Backpack for Longevity
Backpacks are more than just bags; they're faithful companions on your journeys, whether you're a traveler exploring new horizons or a student navigating the campus hustle. But the marks of your ad...
What Are Slide Sandals and Why Are They Popular
Slide sandals have established themselves as a go-to choice for style, comfort, and versatility in modern footwear. These effortlessly chic sandals offer a universe of possibilities for fashion ent...
Understanding Crew Socks - What Are They?
Welcome to the ultimate guide on understanding crew socks, your go-to source for comfort and style. Crew socks have gained immense popularity as a versatile and comfortable type of socks that cater...
Hoodies vs Jackets: Choosing the Perfect Outerwear
When choosing between hoodies and jackets, the decision boils down to personal preferences and specific needs. Hoodies, known for comfort and budget-friendliness, feature attached hoods for casual ...
In the constantly changing world of fashion, certain trends possess a unique ability to resurface triumphantly, captivating the admiration of fashion enthusiasts and transforming into enduring symb...
Choosing the Best Fabric for Hoodies
In the realm of selecting the perfect hoodie, one often underestimated aspect is the choice of fabric. This element holds the key to not only the hoodie's comfort and durability but also its overal...
Run in Style and Comfort: Shorts vs. Leggings
Choosing between running shorts and leggings depends on climate, personal preference, and activity level. Both should have moisture-wicking and breathability features for comfort. Proper fit and la...
Mastering the Art of Hoodie Embroidery
If you're ready to turn your plain hoodies into unique, eye-catching pieces of art, this ultimate hoodie embroidery guide has got you covered. Whether you're a newbie or an embroidery pro, you're a...
How to Make Your Dream Custom Wedding Shoes
Make your wedding day extra special by creating custom shoes that express your unique style! Custom wedding shoes allow you to create a one-of-a-kind look that perfectly complements your suit or dr...
Create and Sell Print On Shoes with ShoeZero
Did you always have the dream of starting a shoe brand like Nike or Jordan, or are you currently an entrepreneur seeking a way to differentiate yourself in the competitive apparel industry? If s...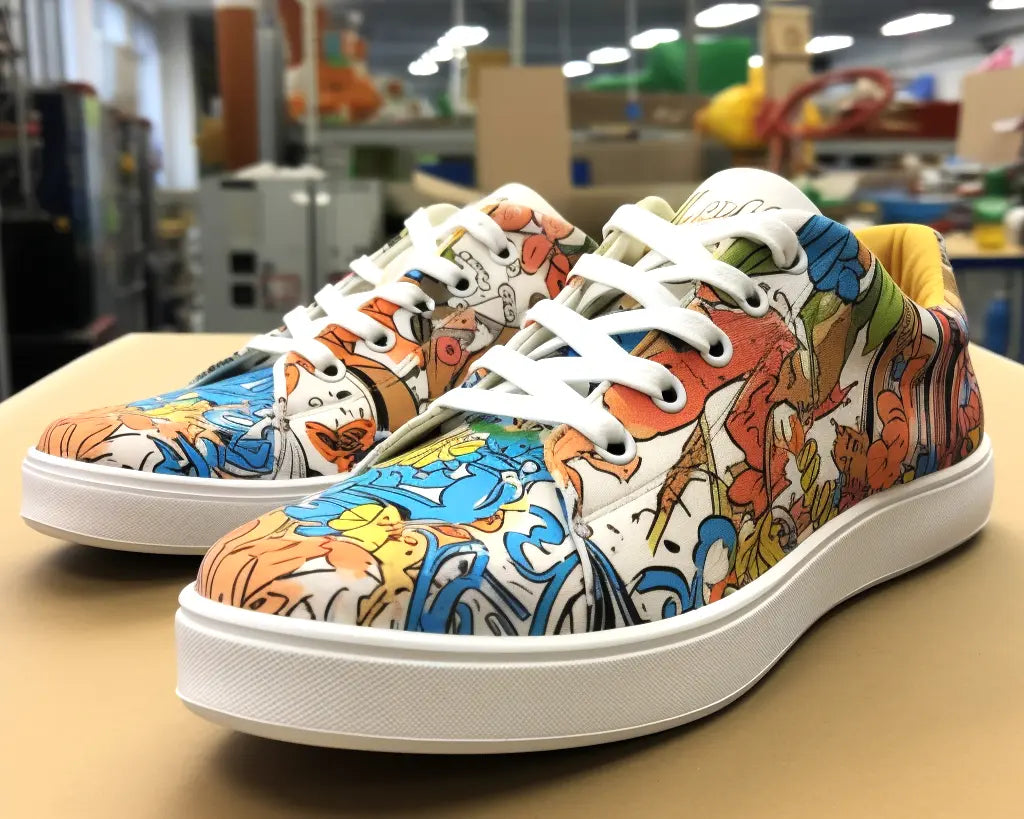 Personal style is as unique as a fingerprint and custom shoe design is the perfect way to unleash creativity and make a statement. From altering the shape and structure of the shoe to experimenting...