Ever dreamt of designing your own unique pair of shoes? Well, now you can! With Nike By You, you can pick the colors you want on your Nike Shoes. But what if you want more customization than just colors?
Then the small startup Shoe Zero may be your champion! Shoe Zero is challenging Nike in the custom shoe market with their revolutionary tech that allows brands, influencers, and everyday people to truly design custom shoes by adding images, logos, artwork, words, patterns, colors, and text all over the shoe!
A David Vs Goliath Tail | Who Will You Pick to Design Your Unique Shoe?
Short Summary
Unleash your creativity with Nike By You and design unique custom shoes!
Experience the thrill of Shoe Zero, the 2.0 version of Nike By You for more customization options!
Join the custom shoe movement to show off your creative designs
Unleash Your Creativity with Nike By You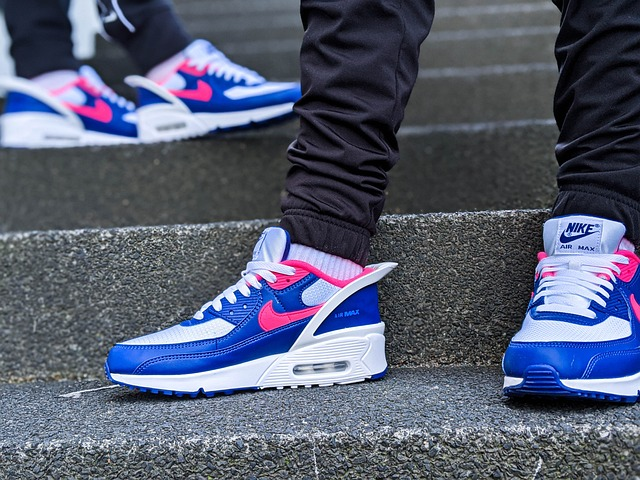 Nike by You is an amazing customization service that allows you to design your own Nike shoes and clothing, offering you the freedom to express your unique style. Choose from an array of colors, patterns, and materials to create your dream pair of sneakers, all while experiencing Nike's exceptional service. Nike By You is available on their website, and you can customize various categories of shoes, including: Association football, Baseball, Running, Rugby football, Basketball, Athletics, Skateboarding Other Sportswear.
The Evolution of Nike By You
Introduced in 1999 as NIKEiD, Nike By You has come a long way, offering the same customization experience with a brand new name. The brand' inaugural Nike By You launch featured 31 totally customizable parts for customers to choose from, allowing them to create an exciting range of unique designs.
Over the years, Nike By You has continued to evolve, expanding its product and service range and enhancing its customization service options, such as the iD Studio Finder service, which helps users find Nike By You Studios and book design consultant appointments.
Customizing Iconic Nike Models Like Air Max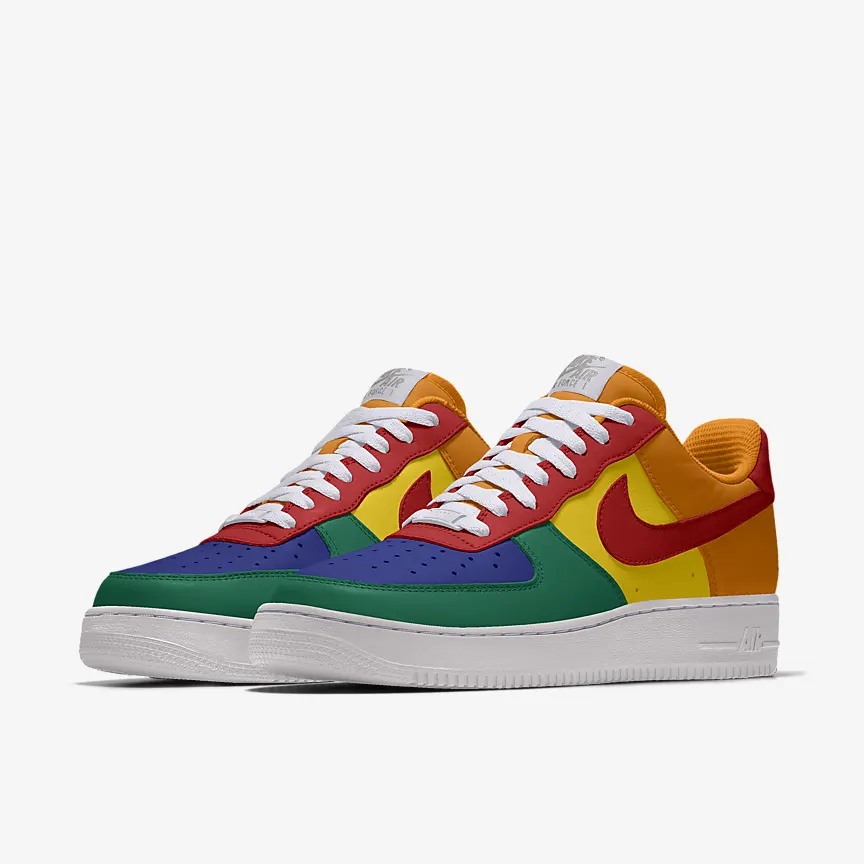 Nike By Nike. You have the opportunity to customize some of the most iconic items. Nike models, including:
Air Force 1, Air Jordan 1, Nike Air Max 90, Jordan 5, Nike Dunk Cortez, Nike Air Max, Nike Air Force 1, Nike Free,Nike Lunar Glide, Nike Dunk, Alt Air Force 1.
Imagine rocking a pair of Nike Air Max 1s with a color combination that nobody else has! Let your imagination run wild and create a personalized Nike shoe that truly represents your style!
SHOE ZERO is the 2.0 Version of Nike By You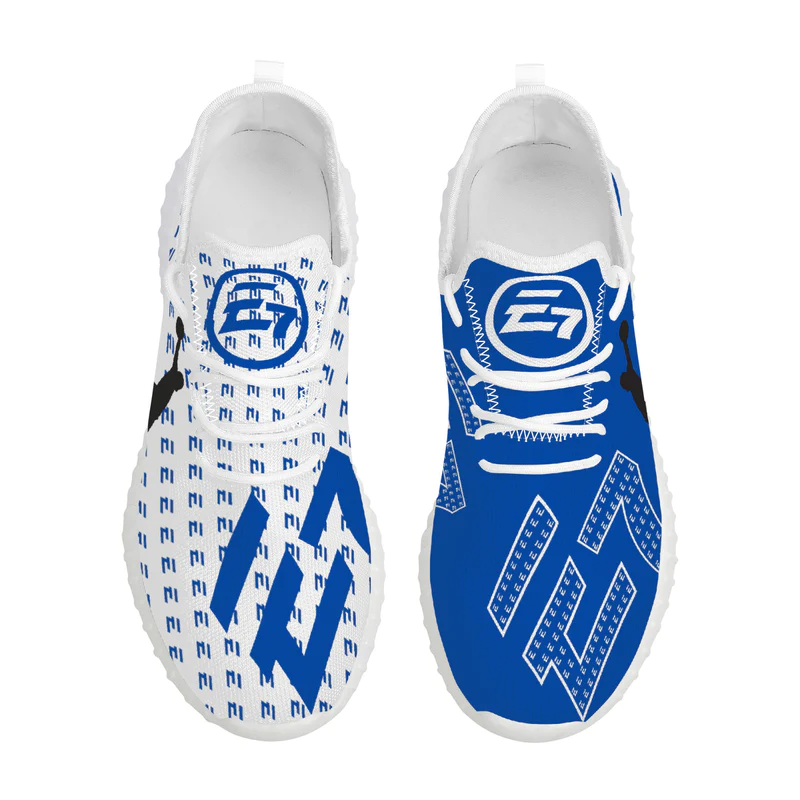 Introducing Shoe Zero, the 2.0 version of Nike By You that offers even more customization options and features. Shoe Zero is likely a term related to the concept of going from zero to one when creating a truly unique custom shoe that will stand out.
With a wide range of customization options, including colors, materials, and patterns, and the ability to add personal touches like custom logos and text, Shoe Zero allows you to create a truly unique and personalized shoe that reflects your individual style.
What Makes Shoe Zero Better Than Nike By You
Shoe Zero sets itself apart from Nike By You with its offer of enhanced design tools and to offer a wider selection of styles and colours. It offers a range of design tools, including the ability to add images, colors, characters, logos, and patterns all over the shoe making it easy to create a one-of-a-kind look that stands out from the crowd.
With an amazing selection of styles, from classic to modern, Shoe Zero caters to every taste and preference, ensuring that you can create the perfect custom shoe that truly reflects your style.
Top Custom Shoe Styles Shoe Zero
Shoe Zero offers over 50 style options for custom shoes, giving you the freedom to create the perfect pair that suits your taste. Some of the style options include: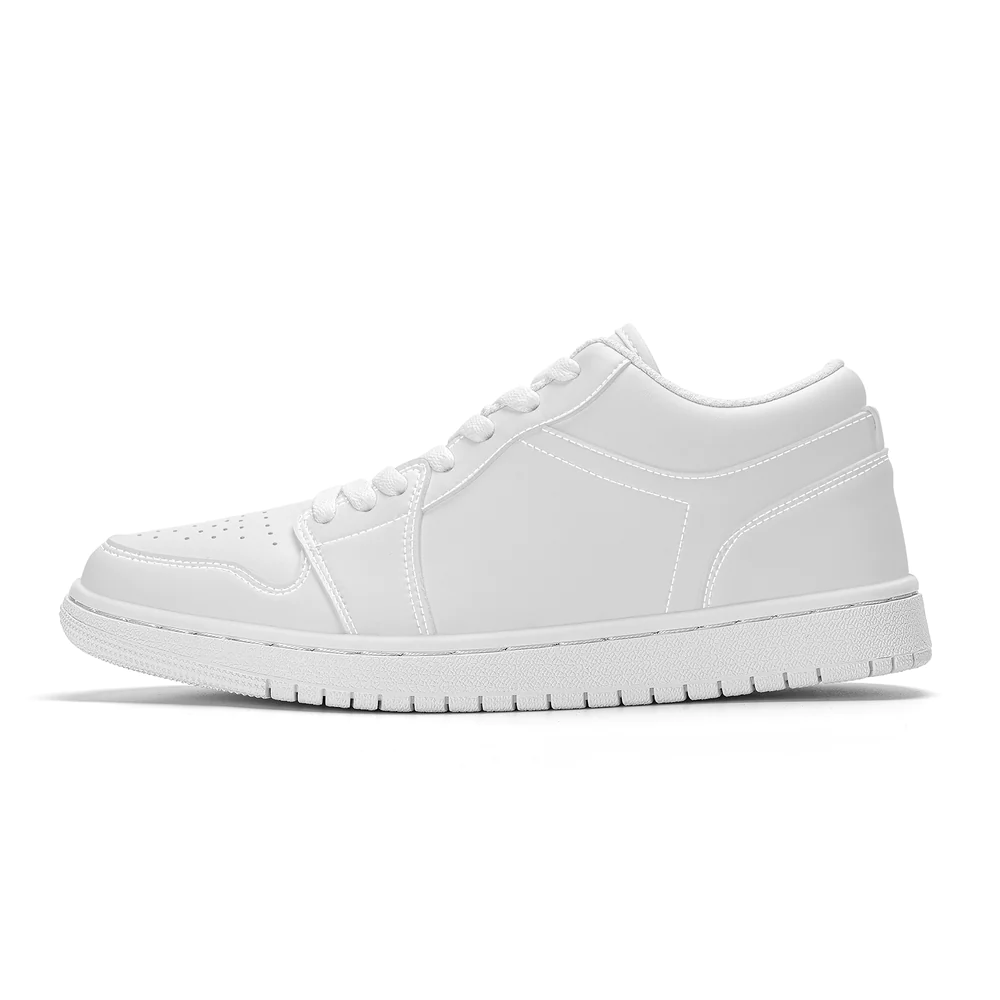 Shoe Zero has got you covered with a wide range of styles and colors to choose from. It has quickly come up with a line of shoes to replace Nike's Air Force 1, Air Jordan 1, Nike's Air Max 90, Jordan 5, Nike's Dunk Cortez, Nike's Air Max, Nike's Air Force 1, Nike Free, Nike's Lunar Glide, Nike Dunk, Alt Air Force 1.
Examples Of Custom Shoes By Shoe Zero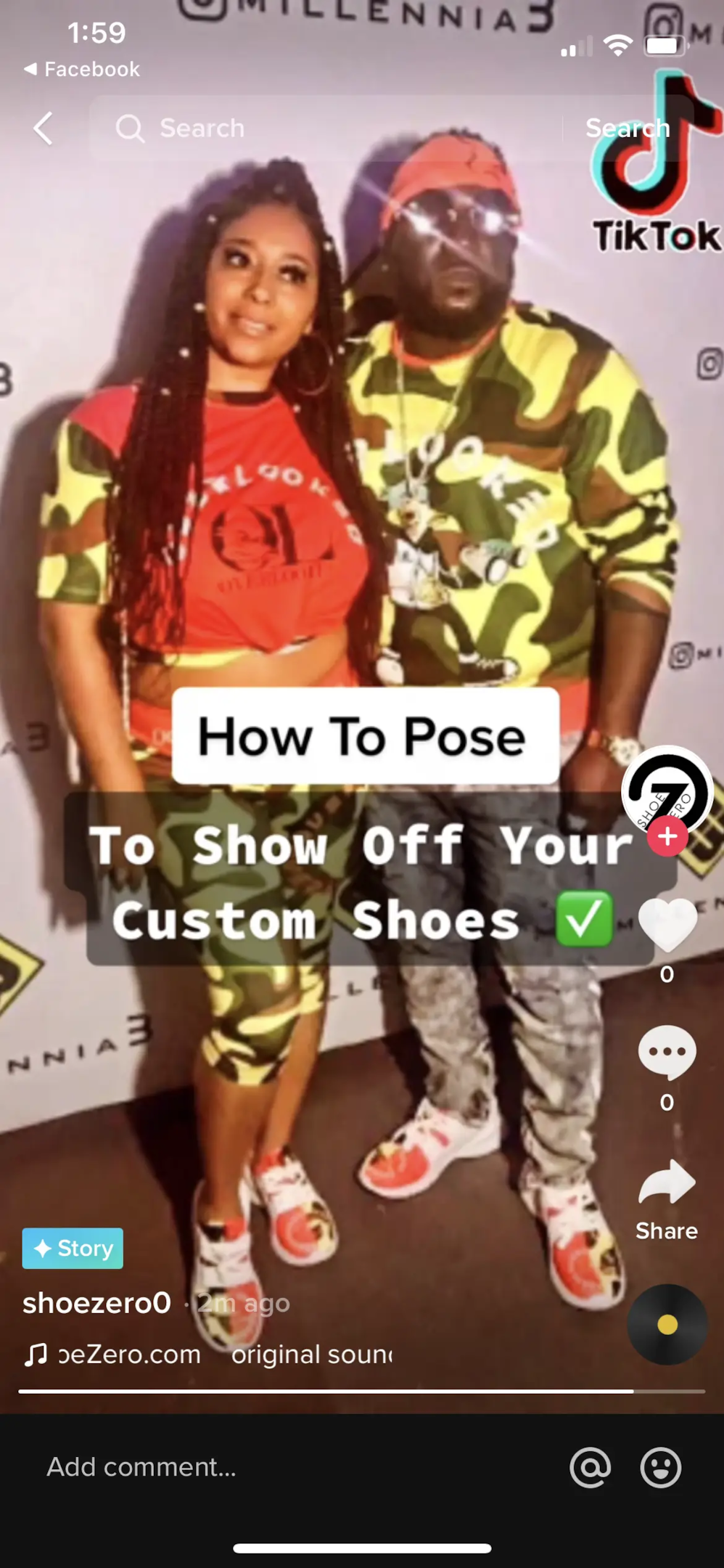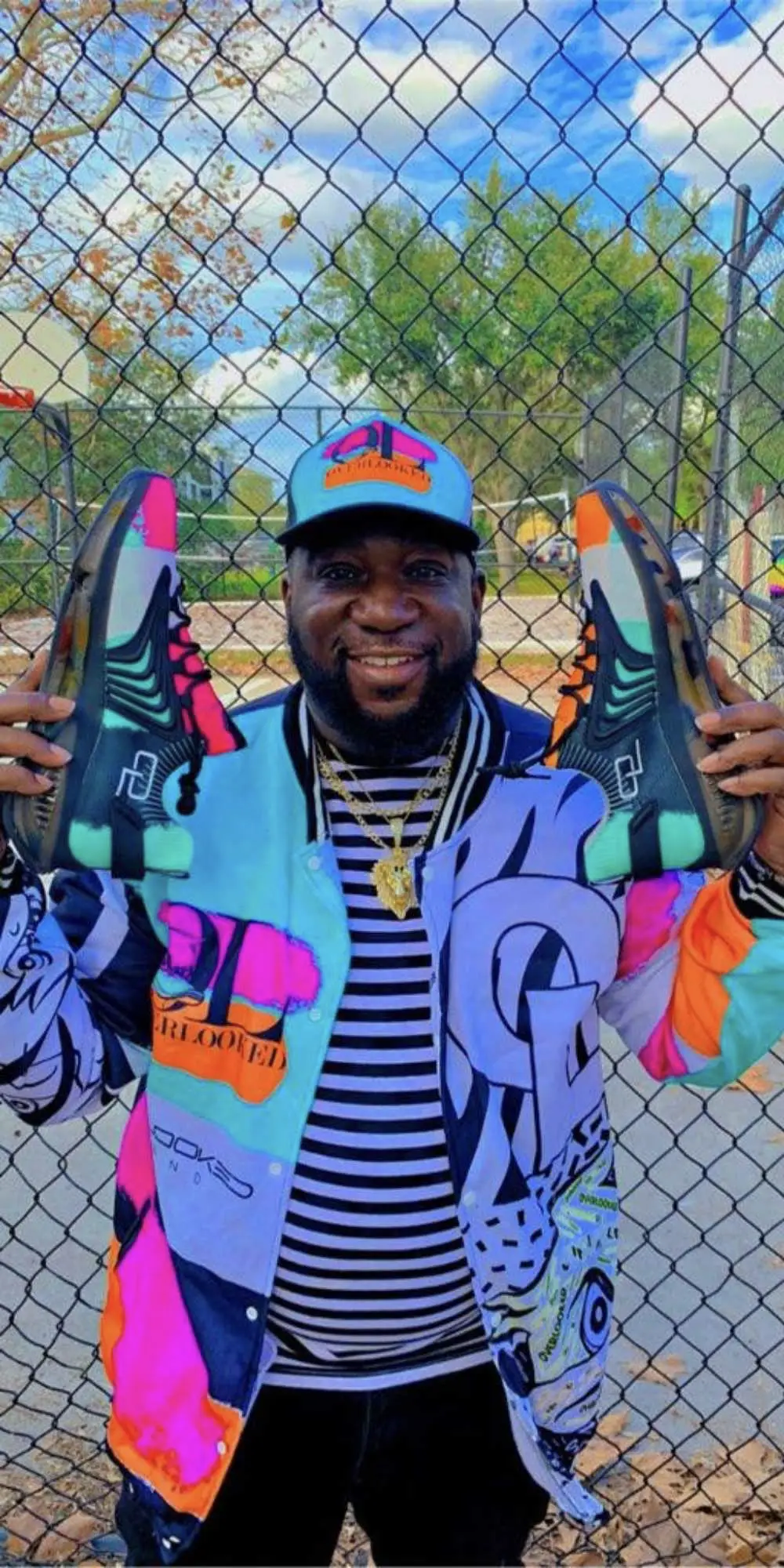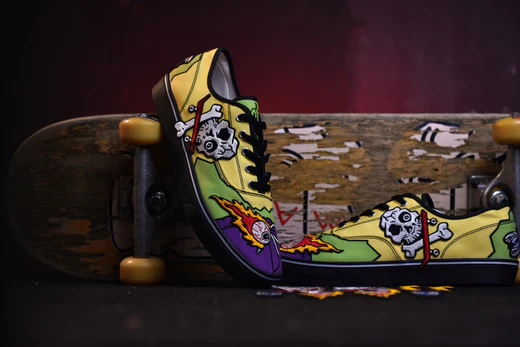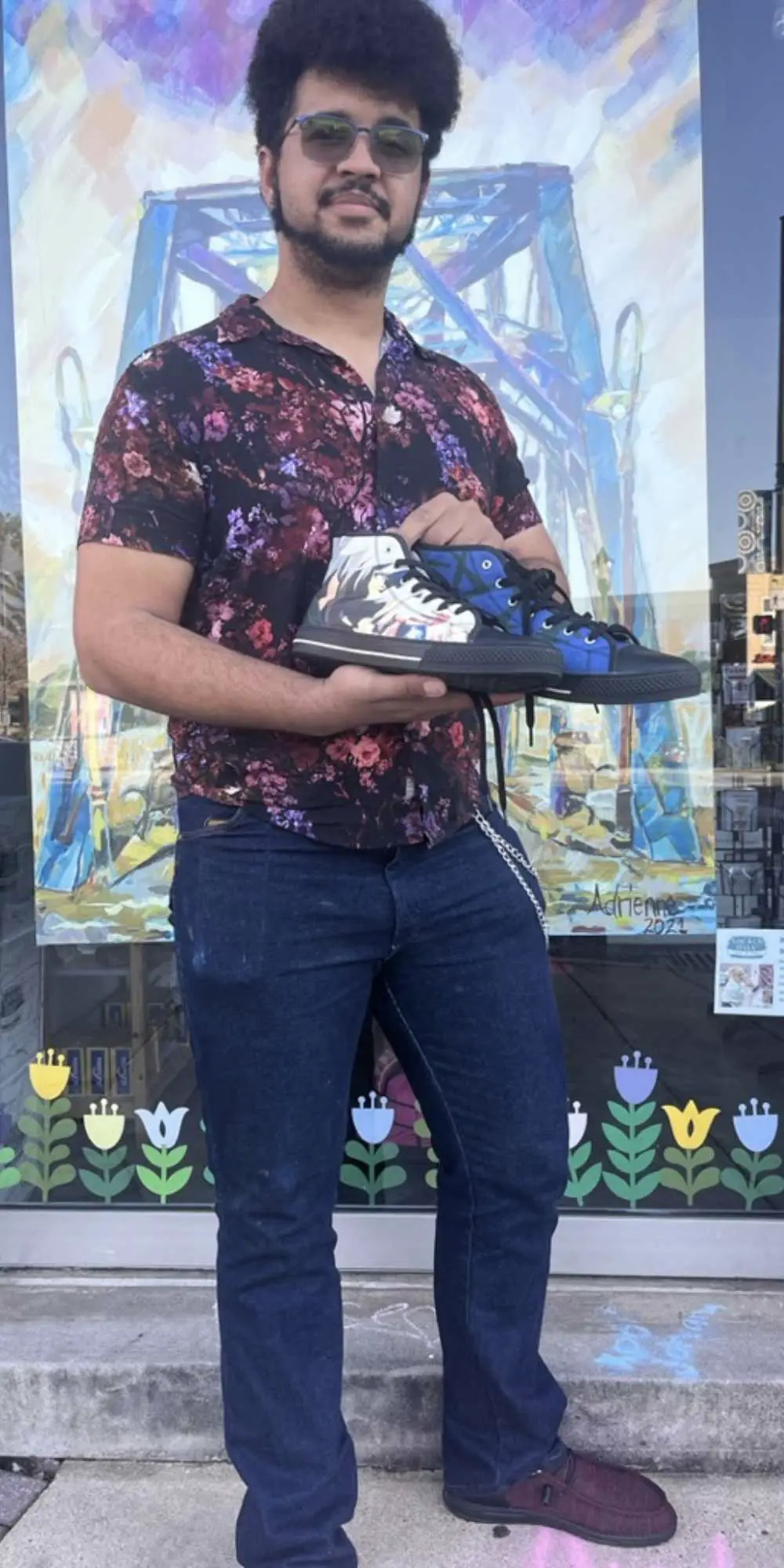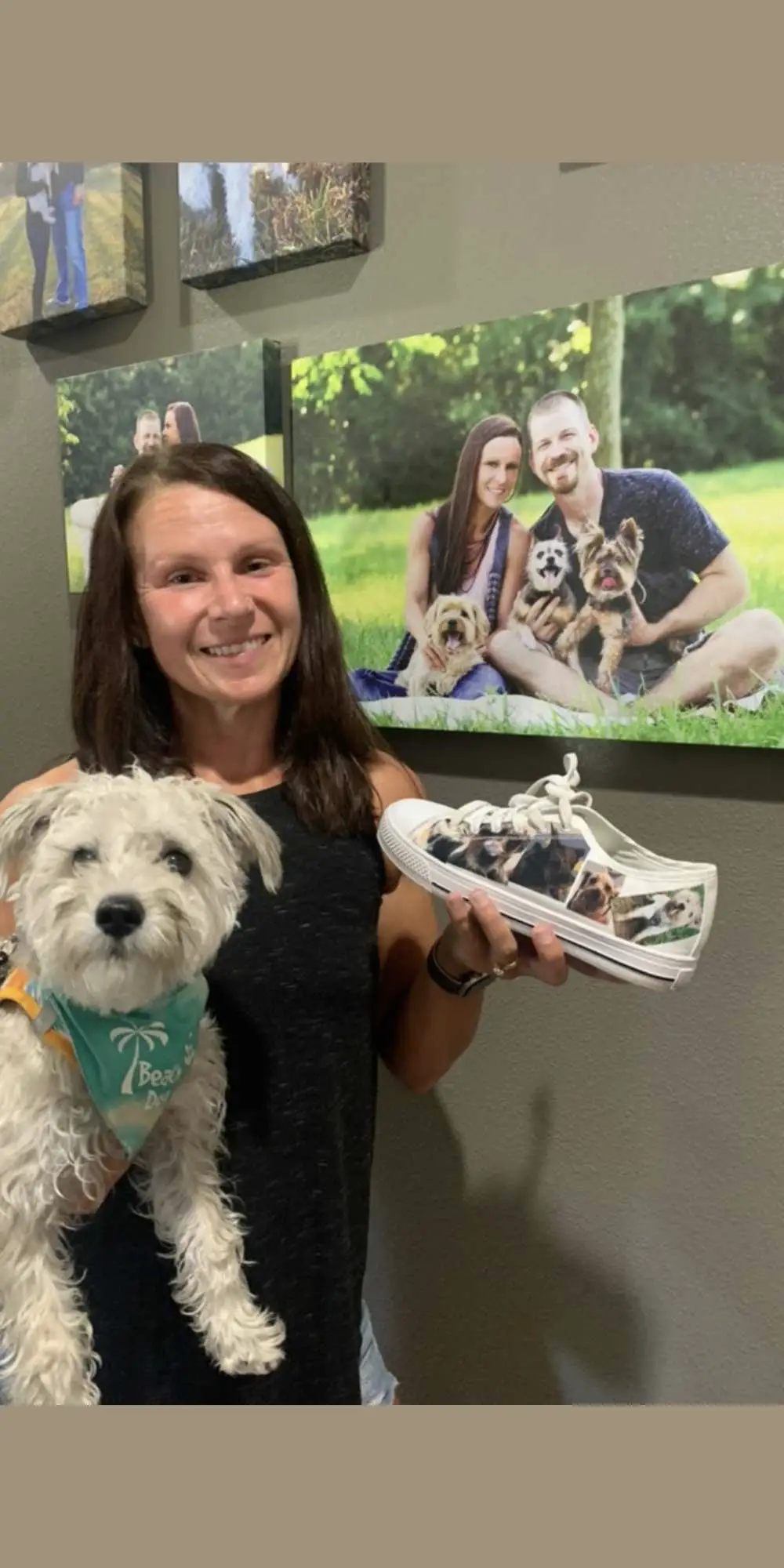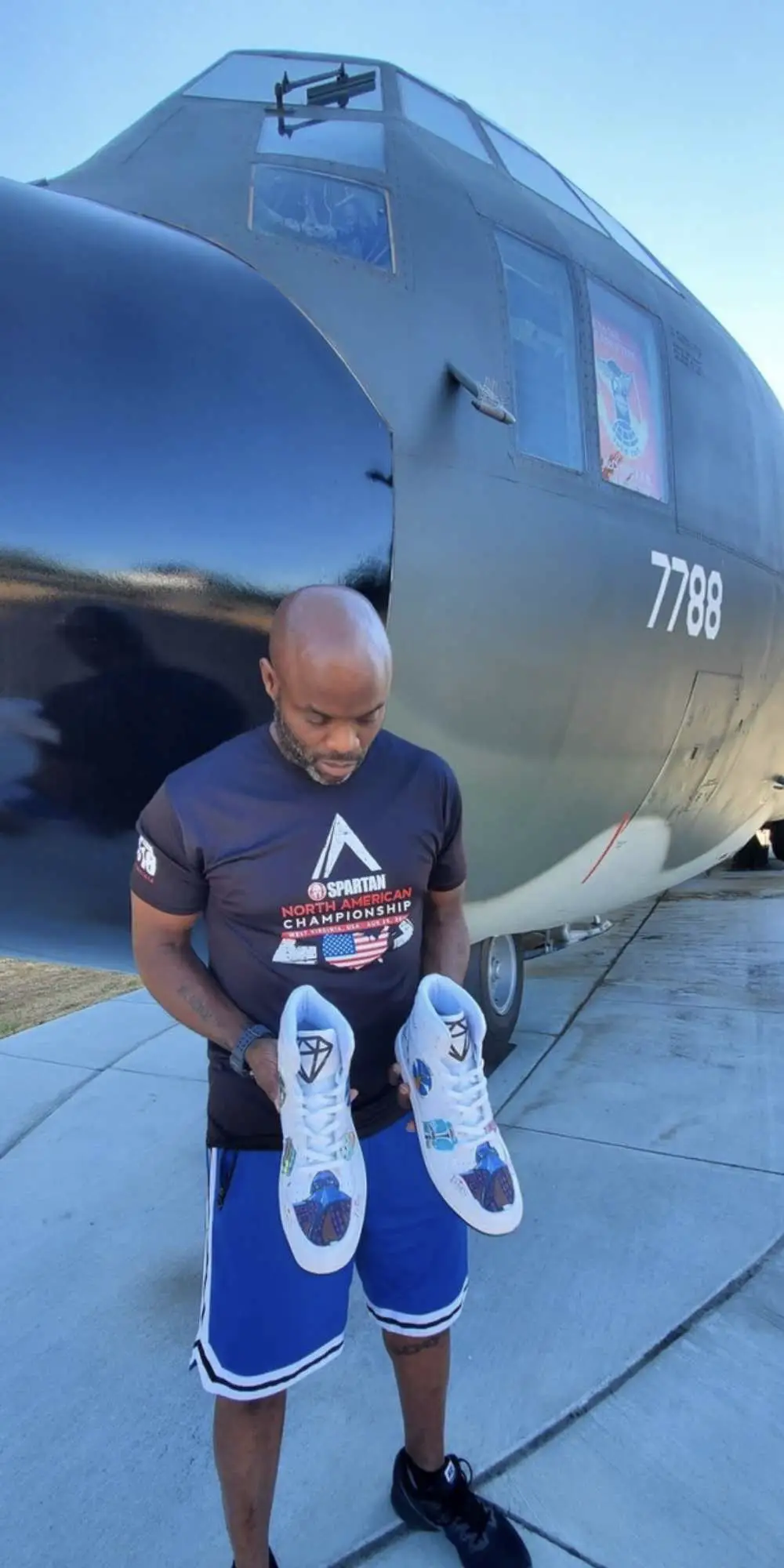 Get inspired by some incredible custom shoe examples designed by Shoe Zero users. Imagine walking down the street wearing a pair of Custom Shoe Zero's with a unique pattern and a personal logo that represents you that no one else has, or turning heads with a pair of Nike Air Max 270s featuring custom colors if you want to go a more traditional route.
The world of custom shoes and clothing offers a vast array of possibilities, so unleash your creativity and design a unique pair that showcases your personal flair!
Dive into the Design Process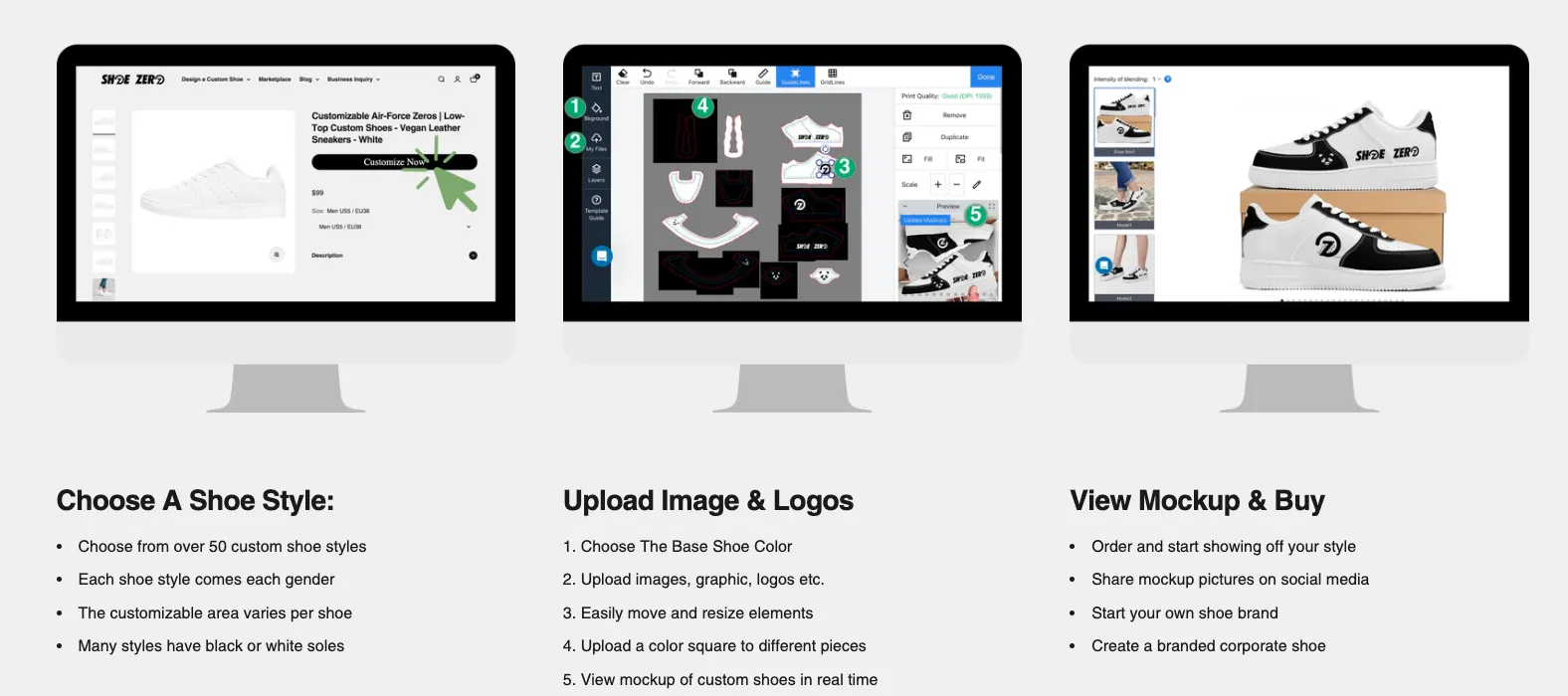 The design process for customizing shoes with Shoe Zero is incredibly exciting and user-friendly. Here's how it works:
Pick a shoe style from their selection.

Upload images or logos to their online customizer.

The customizer uses an innovative process to print vibrant designs on the shoes.
From choosing the right base model to experimenting with colors, materials, and patterns, and adding personal touches, the entire process is a thrilling journey that lets you create a one-of-a-kind shoe that truly reflects your personality. Don't forget to bookmark this page for future reference material and inspiration.
Choosing Your Base Model
To choose the right base model for customizing shoes, it's essential to consider the purpose of the shoe and the desired style. Whether you're looking for a casual sneaker for everyday wear or a high-performance shoe for sports, for example, picking the perfect base model is the first step in creating a custom shoe that meets your needs and preferences.
So, take your time to explore the various price options available and select a base model price that you love and that aligns with your requirements.
Adding Personal Touches
Adding personal touches to your custom shoes is what truly sets them apart from the rest. You can personalize your shoes in various ways, such as:
Adding your own images, patterns, or colors | Pro-tips:

Removing background: Make sure to remove the background of images even if they are white before uploading if you do not want those colors to show up on the shoe. Here is a free background remover https://www.remove.bg/
Adding multiple colors: Upload an image of that block of color and drag it over the piece of the shoe you want to be that color
Upload your favorite symbol or logo on the side

Add text right in the editor or upload in image if you designer a specific font or look
Just make sure your text is in the right direction if you flip it.

Drag and drop all the elements into the right place

Duplicate content: To easily repeat
Flip elements: To easily copy a design on the opposite side

For a really unique look feel free to have different designs or even base colors on the right and left shoe
These personalization options allow you to make details that make your shoes truly unique and stand out from the crowd, showcasing your individual brand with added details inside.
The key is to let your creativity flow and design a pair of custom shoes that genuinely represents your style and personality.
Expert Advice: Tips for Designing Your Custom Nike Shoes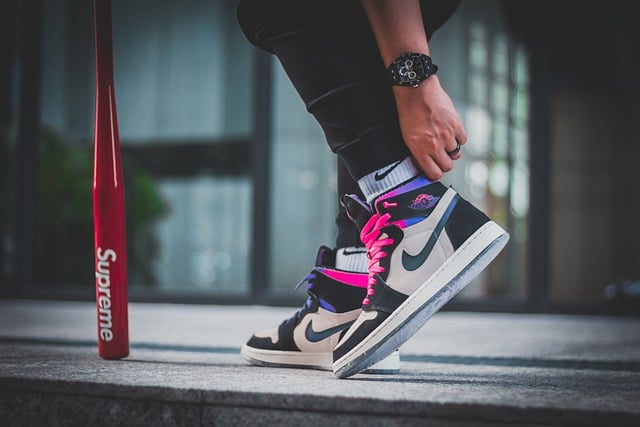 To ensure that the details of your custom Nike shoes turn out exactly as you envisioned, it's important to follow some expert advice. From researching and sketching out details of the design to selecting the right materials and colors, and focusing on fit, feel, and function over fashion, you'll be well on your way to creating a masterpiece.
Let's delve deeper into some tips and tricks that will help you design your dream custom Nike shoes. Research the latest trends and styles, and consider the type of activities you'll be doing.
Balancing Aesthetics and Performance
Creating a custom shoe that not only looks great but also performs well is essential, as it ensures that the shoe is comfortable and durable. Nike works with their innovation team to integrate technology seamlessly into the overall look while striving for better performance, which boosts nike's aesthetic appeal and offers more color and print options.
So, when designing your own collection of custom Nike shoes, pay attention to both aesthetics and performance, and you'll create a shoe that is as stunning as it is functional.
Shoe Zero: Empowering Micro Shoe Brands to Challenge the Goliaths of the Industry
In a world dominated by industry giants like Nike, Shoe Zero has emerged as a game-changer. This innovative company supports an ecosystem of micro shoe brands, empowering influencers, athletes, and everyday people to launch their own shoe lines. By offering zero customization options and assembling a dedicated design team, Shoe Zero stands against the Goliaths of the industry and provides a platform for up-and-coming artists, creators, and athletes to thrive.
Shoe Zero breaks free from the limitations imposed by major brands by offering zero customization options. This allows individuals to fully explore their unique visions and design shoes that reflect their individual style. Unlike the predefined templates and restrictions imposed by industry giants, Shoe Zero embraces individuality, giving creators the freedom to bring their ideas to life.
Moreover, Shoe Zero's design team acts as a guiding force for those entering the shoe market. With their expertise and industry insights, these experienced designers offer invaluable assistance and support throughout the creative process. By partnering with Shoe Zero, influencers, athletes, and everyday people gain access to a dedicated team that shares their passion and helps transform their dreams into reality.
In a David vs. Goliath battle, Shoe Zero takes a stand. By nurturing a thriving ecosystem of micro-shoe brands, this company offers an alternative to the dominance of major players like Nike. Through Shoe Zero, up-and-coming talents can shine and consumers can express their individuality with custom-designed shoes. With Shoe Zero as their ally, the Davids of the industry are no longer alone in their quest for success.
Summary
Designing your own custom Nike shoes with Nike By You and Shoe Zero is an exciting and rewarding experience that allows you to express your unique style. From choosing the perfect base model and experimenting with colors, materials, and patterns to adding personal touches and showcasing your creations to the world, the possibilities are endless. So, why not unleash your creativity and design a pair of custom Nike shoes that truly represent you? The world is your canvas!
Frequently Asked Questions
Are you allowed to customize Nike shoes?
You can customize your own collection of Nike shoes with Nike By You and let your imagination run wild! Explore the newest collection of Nike By You shoes to find the perfect style for you.
Can you get your shoes customized?
Yes, you can get your shoes customized! A few major brands like Nike, Vans, and Converse allow basic customization options but to truly create a custom shoe head over to startup shoezero.com
What is the name of the Nike shoes that change color?
Look cool and show off your style with Nike Air Max 1 CX Color Change Shoes! This b-ball icon features a classic white upper treated with photochromic inks that transform the material into a patchwork of vibrant colors when exposed to UV sunlight.
How long does it take for my custom Nike shoes or Shoe Zero Shoes to be delivered?
Yay! You'll be sporting your custom Nike shoes in no time. It takes around 4-6 weeks for them to arrive.
What happened to Nike ID?
NikeID became Nike By Yours. In 2019, Nike changed its offering to Nike by naming its website it now Nike. The new website and online store offer a wider range of model choices, color choices and materials than previously. You may now purchase and personalize your Nike shoes at the website www.nike.com.
Does Nike allow resellers?
The sale of merchandise at a Nike store will not be permitted.
Does Nike allow you to swap shoes?
All Nike purchases include a 60-day return warranty. We can change any item or offer in 60 days and we can make things go smoothly. We have everything you need to create a new design.
Can I build my own shoe?
Although it may be quite an intricate process for an untrained person, it is quite possible for you to create shoes from home. The best footwear is to gather the correct material, cast your feet, cut the pieces of shoes according to dimensions, assemble these pieces and finalise and check the design.
What is the Nike shoe app called?
This page is a top quality footwear store. Insight into Nikes most recent products and services provides access for all.
Does Nike make their own shoes?
Nike is a multi-national company from USA. Like other multinationals Nike has no manufacturing process for the product. Instead, the company outsources manufacturing processes to suppliers from a variety of nations and countries. They work together with Nike to produce their footwear for Nike.